Biographies
Carl W. Gottschalk, MD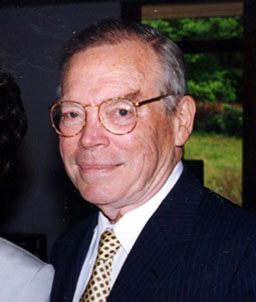 Carl W. Gottschalk, MD was born in Salem, Virginia in 1922. After graduating Phi Beta Kappa from Roanoke College in 1942, he attended the University of Virginia Medical School, graduating in 1945. He completed his residency at Massachusetts General Hospital and a research fellowship at Harvard Medical School under Eugene Landis, during which he first became interested in micropuncture, a process by which nephron segments are pierced, to investigate microcirculation.
In 1952, Dr. Gottschalk joined the University of North Carolina at Chapel Hill as a cardiology fellow and stayed there for the remainder of his career. With a small grant, Dr. Gottschalk established a laboratory to study how the kidney concentrated urine. Reviving the use of micropuncture techniques, he pursued the widely-dismissed hypothesis that a countercurrent multiplier system of renal tubules and vasa rectae was responsible. In 1958, Dr. Gottschalk published evidence from his lab in Science that essentially proved this hypothesis. Following these seminal studies, Dr. Gottschalk's micropuncture lab became a center of cutting-edge scholarship and training. Dr. Gottschalk and his colleagues led pioneering research studies on the mechanisms involved in urine acidification, calcium excretion, potassium depletion, neural control of salt excretion, and glomerular dynamics, and also made important observations on the pathology of acute and chronic renal failure.
In addition to his prodigious research, Dr. Gottschalk contributed to the field through service. In 1966, he was selected to chair the Special Committee on Kidney Disease, an initiative of the U.S. Bureau of the Budget that was charged with determining the prevalence of chronic kidney in the country, the percentage of such patients that could be treated with dialysis, and whether dialysis should be classified as a therapeutic, rather than experimental, procedure. The committee's recommendations, including that there was a significant number of patients with chronic renal disease that could be treated successfully with dialysis and that no one should be denied such treatment for financial reasons, led to the current federal support of renal dialysis. Dr. Gottschalk was elected to the American Academy of Arts and Sciences in 1970 and the National Academy of Science in 1975, and served as president of ASN from 1975 to 1976.
Dr. Gottschalk sat on many editorial boards, including the American Journal of Physiology, Journal of Applied Physiology, and Kidney International, and received numerous awards, including the Homer W. Smith Award of the American Society of Nephrology in 1970 and the David M. Hume Award of the National Kidney Foundation in 1976.
Carl W. Gottschalk, MD, passed away in October 1997. His collection of rare scientific books was donated to the University of North Carolina and is currently housed in the Gottschalk Collection at the Wilson Library.