ASN Policy Statement on Maintaining Career Excellence
ASN endorses the role of the American Board of Internal Medicine—as one of the American Board of Medical Specialties' 24 specialty boards—to provide the initial certification for nephrologists.
ASN supports the lifelong learning of nephrologists through educational activities and self-assessment programs.
ASN believes in the right of each nephrologist to choose a process of maintaining career excellence that affirms the values of the medical profession as well as highlights to the public her/his ability to provide high-quality care.
ASN opposes efforts by entities outside the medical profession to weaken the public's faith in the ability of the medical profession to self-regulate.
ASN is committed to working for its members and their patients to:

Improve all aspects of the assessment of professional competence.
Explore innovative and more efficient approaches to ensuring nephrologists provide high-quality care for their patients.
Posted August 2017
ABIM MOC Updates
December 2021: ABIM's New Longitudinal Knowledge Assessment
Enrollment for all ABIM Maintenance of Certification (MOC) assessments, including the new Longitudinal Knowledge Assessment (LKA) opened December 1. The LKA is a wholly redefined, interactive assessment experience that also supports physicians' ongoing educational efforts and makes it easier for them to know and demonstrate they are keeping up with advances in medicine. More information is available in the LKA Toolkit or on the ABIM website.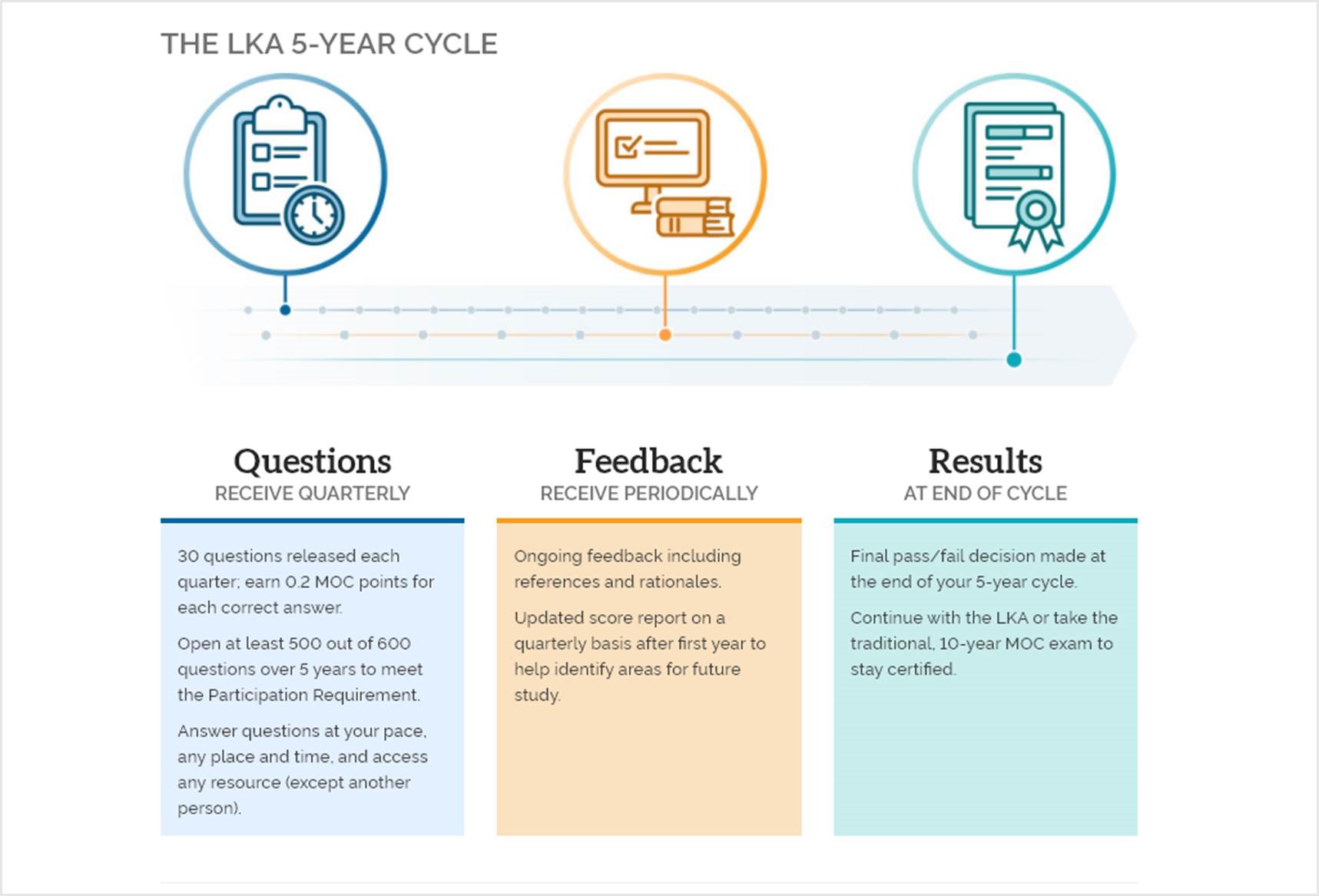 ABIM MOC Exam Dates
Traditional MOC Exam Dates
| MOC EXAM DATE OPTIONS | REGISTRATION DATES |
| --- | --- |
| Spring 2022: April 11, 2022 | Dec. 1, 2021 through Feb. 28, 2022 |
| Fall 2022: November 10, 2022 | Dec. 1, 2021 through Aug. 15, 2022 |
Continuing Board Certification
November 2021: American Board of Medical Specialties' New Standards for Continuing Certification
The American Board of Medical Specialties (ABMS) has approved new Standards for Continuing Certification (Standards). The new Standards have been designed to guide the ABMS Member Boards, including ABIM, in establishing continuing certification programs that help diplomates stay current in their specialty while providing hospitals, health systems, patients, and communities with a credential upon which they can continue to rely and depend. The Standards will be effective January 1, 2024.
How ASN Helps Its Members Meet These Requirements
Medical Knowledge