Grants & Funding: NIH Funding
Research Career Timeline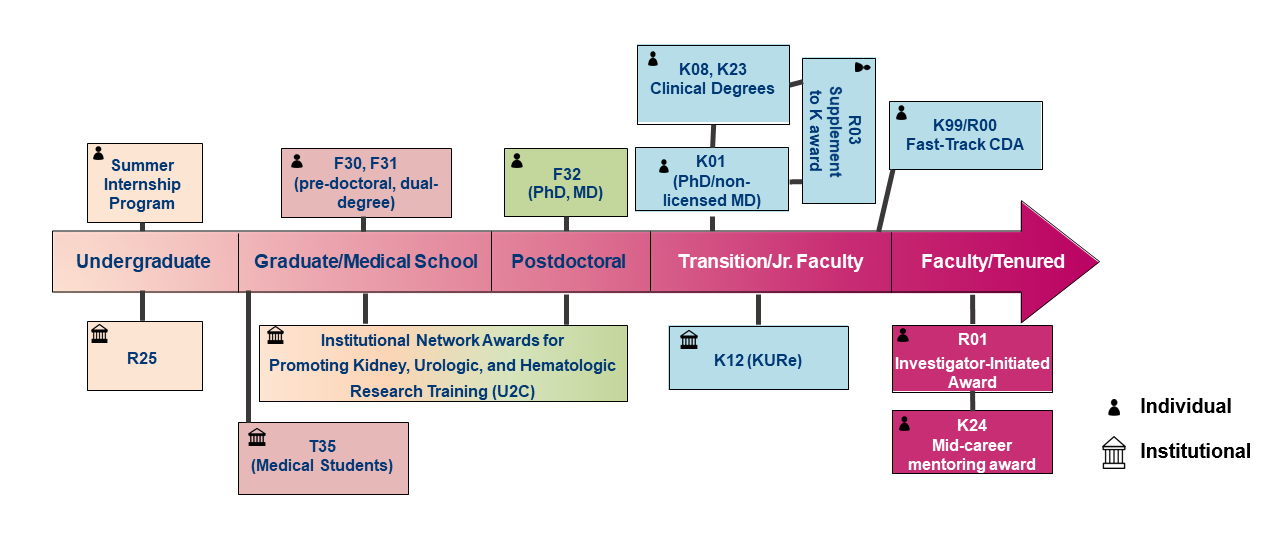 Loan Repayment Program
The goal of the Loan Repayment Program is to ease the debt burden clinical scientists may have incurred while attending medical school and a residency program. The National Institute of Diabetes and Digestive and Kidney Diseases (NIDDK) has two loan repayment programs: one for clinicians and one for pediatricians. In addition, the National Center on Minority Health and Health Disparities sponsors two loan repayment programs for clinicians: one for those involved in health disparities research and another for clinical researchers from disadvantaged backgrounds. Competitive applicants must demonstrate their commitment to a research career and have a debt-to-salary ratio of at least 20 percent. The Loan Repayment Program may repay up to $35,000 a year toward each participant's outstanding eligible educational loan debt, depending on total eligible repayable debt. For more details about eligibility and to apply online, click here.
Current NIH Funding Opportunities
National Institute of Diabetes and Digestive and Kidney Diseases (NIDDK): To find program contacts at NIDDK, click here and then select the program of interest to you in the left menu bar.
National Heart Lung and Blood Institute
Training Opportunities for Pre-doctoral Students and Post-doctoral Fellows
Individual (F30): Designed to support individuals in dual degree, usually MD/PhD, programs during their PhD research experience.
Individual (F31): Designed to provide support for pre-doctoral students from under-represented minority groups performing research relevant to NIDDK's mission.
Individual (F32): These awards provide support for fellows who have received their M.D., Ph.D., or other doctoral-level degree. Fellows need to identify a sponsor and plan a research project before applying for 1 to 3 years of funding
Institutional Network Award for Promoting Kidney, Urologic, and Hematologic Research Training: The purpose of this funding opportunity is to invite new Institutional Network Awards (U2C/TL1) to cultivate a highly integrated cohort of trainees and early career investigators and to develop career development resources to accelerate kidney, urologic, and hematologic research. To maximize integration and promote a true trainee community, Institutions are invited to submit a single, unified U2C/TL1 application to engage, recruit, prepare, and sustain the next generation of kidney, urology, and hematology researchers. Applications covering a single metropolitan area are strongly encouraged.
Institutional (T35): These grants are awarded to research institutions to support short-term, typically summer, research experiences for pre-doctoral or post-doctoral students. NIDDK programs support summer experience for medical and other health professional students. For a list of NIDDK-supported programs, click here.
Career Development Awards and Transition to Independence
DP5 (NIH Director's Early Independence Awards): The NIH Director's Early Independence Award Program supports exceptional investigators who wish to pursue independent research directly after completion of their terminal doctoral/research degree or clinical residency, thereby foregoing the traditional post-doctoral training period.
K01 (Mentored Research Scientist Development Awards): Supports Ph.D. scientists, or those individuals with a foreign MD who are not boarded in the U.S., who have at least 3 to 5 years of postdoctoral training and who need to transition to independence.
K08 (Mentored Clinical Scientist Development Awards): Aimed at physician-scientists to transition them to independence. For NIDDK applicants, they must be licensed to practice medicine in the U.S.
K23 (Mentored Patient-Oriented Research Career Development Awards): Aimed at clinical investigators engaged in patient-based research. K23 projects involve direct interaction with patient subjects.
K25 (Mentored Quantitative Research Career Development Awards): Available to individuals with quantitative (E.g., engineering, mathematics, computer science, etc.) backgrounds who wish to pursue biomedical research.
K99/R00 (NIH Pathways to Independence): This is intended for talented postdoctoral candidates on the fast-track to a productive research career. Eligible applicants must have five-years or fewer of postdoctoral research experience and may not already have an independent faculty position. The first two years of the award, the K99 phase, is for mentored career-development. At the end of the second year, the applicant must have secured an independent tenure-track position to continue the final three years of the award as an R00. While this award does not require U.S. citizenship or permanent resident status, the applicant must be able to remain in the United States to conduct the full five years of the proposed work.
R03 (Small Grant Program for NIDDK K01/K08/K23 Recipients): In the final two years of the career development grant, K recipients may apply for small grant funding for additional development support for their research.
Newly-Independent and Established Investigators
You can learn more about the definition of and policies for new and early-stage investigators here.
DP2 (NIH Director's New Innovator Award Program): This program was created in 2007 to support a small number of early stage investigators of exceptional creativity who propose bold and highly innovative new research approaches that have the potential to produce a major impact on broad, important problems in biomedical and behavioral research. The New Innovator Awards complement ongoing efforts by NIH and its Institutes and Centers to fund early stage investigators through R01 grants, which continue to be the major sources of NIH support for early stage investigators. The program is announced on a yearly basis.
K24 (Midcareer Investigator Award in Patient-Oriented Research): Supports mid-career physicians in patient-oriented research with funded clinical investigations and who are mentoring young clinicians.
R01 (NIH Research Project Grant): Used to support a discrete, specified, circumscribed research project and the most common grant program.
R25 (NIDDK Education Program Grants): The R25 program provides support for educational opportunities (E.g., workshops, classes, summer research programs) to engage students from undergraduate to graduate in research areas relevant to NIDDK.
Special Populations
Opportunities for those investigators from under-represented groups are coordinated through the Office of Minority Health Research Coordination, NIDDK. Eligible investigators are encouraged to join the Network of Minority Health Research Investigators to network and remain up to date on the latest funding opportunities.
In addition to the opportunities listed below, others are available through NIH here.
NIDDK Small Grants for Clinical Scientists to Promote Diversity in Health-related Research (R03): Clinical investigators from under-represented minority groups may propose a small research project in research areas relevant to NIDDK's mission.
Research Supplements to Promote Diversity in Health-Related Research: Principal investigators holding eligible research grants may request support for an under-represented minority to work in their group. The candidate can be at any career stage, from high school to faculty.
Ruth L. Kirschstein National Research Service Awards for Individual Predoctoral Fellowships to Promote Diversity in Health-Related Research (Parent F31 - Diversity): Designed to provide support for pre-doctoral students from under-represented minority groups performing research relevant to NIDDK's mission.
Additional Research and Training Opportunities: OMHRC supports several training and education opportunities. This link provides the portal to the host websites and online applications.
Latest Policy News—Get Connected!
NIH sponsors several newsletters, newsfeeds, listservs, etc. targeted to the extramural grant community. Several most useful ones are listed below and others are available here.
NIH Extramural Nexus and Rock Talk
Twitter Feeds
@NIH_OER (OER Communications Office)
@RockTalking (Tweets from the OER Director)
@NIHforFunding (NIH Guide for Grants and Contracts)
@NIH_LRP (NIH Loan Repayment Program)
Facebook
http://www.facebook.com/nihlrp (NIH Loan Repayment Program)
http://www.facebook.com/NIDDKKUHtrainee (NIDDK and KUH Trainee Information)
NIH Peer Review Policies and News
Peer Review Process homepage from Office of Extramural Research: a general description of the grant review process with links to additional resources
Center for Scientific Review Applicant homepage: includes videos depicting a typical peer review meeting and tips for applicants.
Renal-related Study Sections: most renal-related research applications are reviewed in the Digestive, Kidney and Urological Systems IRG. Renal-related career-development awards and training grants (T32s and Fs) are reviewed by the Division of Extramural Activities, Review Branch. Rosters for standing study sections are available at each of these websites.
Award Data—NIH RePORT
This Award Data—NIH RePORT site contains many online tools for searching currently-funded projects. It is useful to determine the types of projects being supported, where they are supported and who is funded to do them.